Out with the old, in with the new –  Clean up with SuiteAmerica
It's that time again! Time to vacuum, dust, and organize! It may not be fun, but a clean, fresh start to the New Year will help create a balanced, stress free life for you and your family.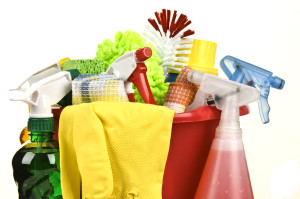 Don't get overwhelmed before you start
Make a list of each room in the house that needs to be cleaned and a sub-list of tasks that need to be addressed.
Stock up on trash bags, boxes, sponges, and multi-purpose cleaner so you have everything you need on hand. Don't forget organizational tools such as boxes, bins, and shelves.
Open the windows to get some fresh air and the smell of cleaning products out
Turn up the volume on your favorite upbeat music playlist!
Divide and Conquer
The best way to tackle your spring cleaning is to start with the room that is your least favorite to clean or the room that has been neglected the longest.
Enlist the help of your family members by delegating small tasks and inform them of the time and days that will be dedicated to cleaning.
In each room, determine what you are going to throw away, and what you can donate. Separate the items and at the end of the day drop off your donations and throw away the trash so you can start fresh the following day with the next room in your home.
Gather your cleaning supplies in a bucket and carry from room to room.