As SuiteAmerica has grown over the years, we have implemented many new processes to make our operations run more efficiently. We are constantly evaluating our internal operations and how we interact with our guests. Ultimately, we strive to provide customer service that is the best in the industry. To provide this top notch service to our guests we identified the need to improve communication between our guest service department in house and our distribution and housekeeping team members in the field. By improving the communication between these departments we felt it would help us to improve response times to service requests and allow us to perform more same day requests than we had in the past.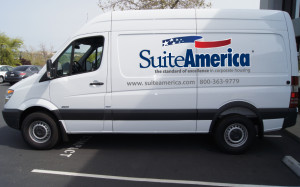 In our efforts to achieve more efficient communication for optimal response times to service requests, we implemented software called Mobile Control by SageQuest. SageQuest's Mobile Control is a GPS based fleet management software that can be accessed online as well as through a mobile device or tablet. Mobile Control provides an interactive Google map that allows us to see, at any given time, the location of our vehicles as well as their activity (starts, stops, after hour movement, etc.). We are also able to pull reports, set alerts, and create geo-fencing for our most common properties. A geo-fence is commonly used in GPS software and is a virtual perimeter for a real world geographic area.
Geo-fencing has been one of our most valuable assets in implementing this GPS software. Internally, our guest services department is able to see where our vehicles are in respect to the geo-fences we have created. If we receive a request from a guest within a given geo-fence we can contact the driver directly and have them respond immediately to the guests requests. This has drastically improved our response time to guests and thus improved our customer satisfaction. Through geo-fencing we are able to find the closest driver and send them to respond to a guest's service request rather than sending out another driver; improving time and overall cost efficiency.
One of the alerts we have in place is for a speeding violation; by monitoring the speed of our vehicles we are able to reduce our fuel costs for each vehicle and ensure the safety of our drivers as well as others. We can also monitor our fuel expenses through Mobile Control's reporting. Our annual savings on fuel alone is almost $13,000.00. Mobile Control also helps with our overtime expenses by reducing our overtime hours by 648 hours a year, resulting in a savings of over $21,000.00 annually. Additional savings are realized from reduced Fleet Auto insurance as the carriers recognize this software improves overall driver safety and reduces losses from theft of the vehicles.  In fact one of our cargo vans was stolen and we were able to quickly inform law enforcement of the location of the vehicle and it was recovered.
The reporting provided by Mobile Control allows us to monitor the activity of our drivers and ensure they are at their assigned location at the correct time.  Furthermore, we audit our driver's activity down to the minute including when they are in a guests suite, providing the highest security to our guests.  We also analyze a series of stops at a time, on a regular basis, and review how long it takes to perform a task, thus being able to make modifications to our schedule in order to manage each day efficiently.
Mobile Control is a large contributing factor to our efficiency. Our high level of efficiency helps to keep our costs down and ensure that our guests receive the lowest rates possible.